When you live one hundred years people say you have lived a long time. What to say, then, when you have a church that has been operating in one place for four centuries? It is true that attendance has not always been impressive, but still the church has survived. And "impressive" is the right word to be used here. The church that we are taking you to virtually was built in 1636, so it will soon be celebrating its 400th anniversary. It is truly impressive, isn't it? However it is just the beginning as there are many other reasons to go into raptures.
This is one of the smallest wooden churches in the Mazovia Region. This oriented church has a rectangular plan and a log structure. This means that walls made of wooden logs interlock at the corners. The structure is reinforced by vertical beams and planked. It was necessary to conduct repairs after two floods which took place in the region: the first in 1982 and the second in 2010. The water reached a really high level as documented by plaques placed on the outside walls. Thanks to the involvement of the parishioners, it was possible to renovate it after Vistula River flooding.
The interior of the church is conducive to contemplation. Dark wooden walls, golden decorations and the contrasting black (especially on the beautiful pulpit). Among the gems that attract our attention in the church, we should stress the presence of an exceptional instrument: a positive organ. It was executed in the 18th century and has a beautiful Baroque casing. It is placed on the gallery. This portable relative of the organ is characterized by a smaller size and therefore was used in smaller chapels or even in rich private homes. Two people were needed to play on it: one played on the keyboard (the organist) and the other would pump the air inside using bellows (the calcant). Later, people were replaced by electric blowers. In the St Leonard Church there is an original slider and pallet windchest.
It is worth paying attention to the rood beam which has the date of the construction of the church inscribed on it. When looking around the charming interior you cannot miss the main altar of the Immaculate Conception of the Blessed Virgin Mary. The above-mentioned pulpit also stands out against the remaining ornaments. The altar, the painting and the pulpit date back to 1640. The side altar comes from the same period and is decorated with a 19th century painting of the parish's patron saint.
TROSZYN POLSKI - St Leonard Church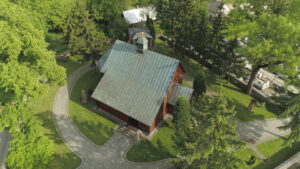 COFUNDED BY THE MINISTER OF CULTURE AND NATIONAL HERITAGE
ORIGINATING FROM CULTURE PROMOTION FUND