The Sanctuary of St. Świerad and Benedict in Tropie is one of the oldest churches in the Southern part of Poland. It is located in a very picturesque area – on a steep rock on the banks of the Dunajec river. Probably the church was founded around 1045 by the Polish king Casimir the Restorer, and dedicated about 1073 to St. Stanisław the Martyr. The legend has it that the building was built in the place of the hermitage of St. Świerad, a Benedictine monk living at the turn of the 10th and 11th centuries. In the 13th century a sacristy was added to the North wall of the church. A small one-nave temple was rebuilt several times in the following centuries. From the original building, the walls of the presbytery and the remains of the North and West walls of the nave have been preserved.
Tropie is a place associated with the beginning of Christianity in Poland. From the 9th century, numerous monks and hermits came to Dunajec area to preach here. In the 10th century one of them was St. Świerad – considered a disciple of St. Adalbert. With time, his own student joined him – St. Benedict.
A souvenir of the presence of St. Świerad in these lands are his relics, which can be seen in the church in Tropie. There are also priceless relics of the Cross of Christ from a tree found in Jerusalem by the mother of Emperor Constantine the Great, St. Helen.
In the rich interior of the church pay a special attention to the altar with a 17th-century painting depicting St. Świerad and Benedict adoring the Mother of God, a stone Baroque baptismal font built into the wall and closed with a wooden, Rococo casing and many beautiful frescoes and paintings.
Below the church there are the remains of an old oak's trunk, where according to legend, the Saint used to hide to protect himself. Nearby there is also the Calvary of Polish Saints, i.e. the Way of the Cross, running through the forest with stations dedicated to the modern martyrs.
Sources:
ekai.pl/sanktuarium-sw-swierada-i-benedykta-w-tropiu/
www.liturgia.pl/Sanktuarium-sw-Pustelnikow-Swierada-i-Benedykta-w-Tropiu/
TROPIE - Sanctuary of the Hermits St. Świerad and St. Benedict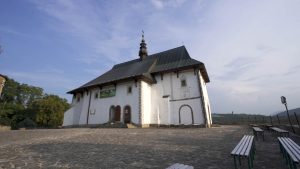 COFUNDED BY THE MINISTER OF CULTURE AND NATIONAL HERITAGE
ORIGINATING FROM CULTURE PROMOTION FUND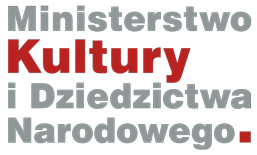 Monday - Friday
10:00 – 17:00
Add a report for a 3D walk