A trip to Grodziec constitutes an opportunity to see more than just a beautiful church. It is a journey through one of the oldest villages of the Cieszyn Silesia. The first mention of settlements in this vicinity dates back to the 13th century. Due to its location along an important trade route, the village quickly grew and not only a church was built here, but also an impressive castle. Among its most important residents was the family of Grodziecki of whom, among others, a bishop of Ołomuniec descended and at the same time a famous cartographer: Wacław Grodziecki, the editor of one of the oldest maps of Poland.
The current wooden church in Grodziec was built in 1854. It replaced the chapel which was destroyed by fire. The church, which is located on a hill, attracts travellers at first sight. The log structure has the plan of an elongated rectangle, topped with a tin roof and two quadrilateral towers. A narrow porch adjoins the nave.
For more than 150 years the church underwent renovation works. The most recent ones, left behind wood panelling that was placed inside of the building. The main altar from the 19th century, holding also much older elements, catches the eyes of the visitors. The structure is decorated in a truly Baroque lavish style and holds at its centre the Marian icon Salus Populi Romani. She is the patron saint of women trying to conceive a child, people suffering from eyesight problems, sportsmen and tourists. The altar to its left and right has statutes of saint bishops: Wojciech and Stanisław. Other historical decorations are the organ front from 1867 and the baptismal font made of the sandstone from Szydłowiec.
Another important decorative element of the church is the image of the parish's patron saint. According to the legends, St Bartholomew was to have been murdered in a truly brutal way: he was crucified upside down, then skinned alive and beheaded. This happened around the year 70 A.D. Nowadays, the Catholic Church worships St Bartholomew as the patron saint of skin and neurological diseases. He also intercedes for beekeepers and apiculturists, and their bees.
Next to the church, it is worth paying attention to a beautiful wooden campanile. The structure, dating back to the 19th century, was reinforced to survive further decades and centuries.
GRODZIEC - St Bartholomew Church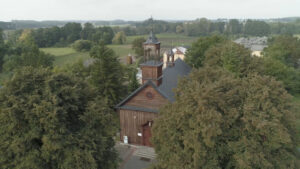 COFUNDED BY THE MINISTER OF CULTURE AND NATIONAL HERITAGE
ORIGINATING FROM CULTURE PROMOTION FUND