It is another treasure of the Wooden Architecture Route in the Małopolska Region. When visiting beautiful Polish places of worship, you cannot miss this site. Its history begins in 1842, when it was built for the Greek Catholic community of the Lemkos. After 1941, the Catholic community took care of it. The church's treasures tell the history going many centuries back.
The building alone delights visitors with its onion-shaped domes and one beautiful pillar structure tower. Its tripartite layout is characteristic for the Lemkos culture. Different parts of the church are covered with tented roofs.
Once inside you set on a true travel in time. The polychromy decorating the interior dates from the 19th century, similarly to the altar. The two icons placed in the very centre are invaluable treasures from the 17th century.  It is also worth noting the famous painting of the Protection of Our Most Holy Lady. Originally the painting was kept in the village of Izby and was brought to the Church in 1955. Its execution dates back to the first half of the 18th century. The painting is worshiped and Casimir Pulaski himself used to ask for benediction through its intercession.  The image of Our Most Holy Lady from Izby is thought to have helped gain the Providence's favour for the Bar Confederates who stationed in the vicinity. Tradition confirms that the prayers before the painting were effective. 
Attentive eyes of the visitors should not miss two Baroque altars located in the nave. They date back to the 18th century. But this is not the end of the treasures, because among the decorations of the church there are paintings from the 17th and 18th centuries.
Special attention should be paid to the icon of the Baptism of Christ dating from the end of the 17th century and to Our Lady of the Seven Sorrows, with a small figure of the founder in the corner.  Our Lady of the Seven Sorrows has been popular, among others, in Slovakia. It is composed of a Pieta i.e. representation of the Virgin cradling the dead body of Jesus Christ. This time the Virgin Mary has an additional attribute: seven swords piercing her heart. They symbolize the seven sorrows, the meditation of which was introduced for the first time into the religious canon by members of the Servite Order, who started to contemplate and imitate the virtues of the Blessed Virgin Mary in the 13th century.
Seven Sorrows of the Blessed Virgin Mary:
The prophecy of Simeon
The flight into Egypt
The loss of Jesus for three days
The meeting of Jesus and Mary on the Way of the Cross
The Crucifixion of Jesus
Jesus taken down from the Cross
Jesus laid in the tomb
Our Lady of the Seven Sorrows is celebrated on the 15th of September. 
Sources:
malopolska.szlaki.pttk.pl/1119-pttk-malopolska-cerkiew-sw-sw-kosmy-i-damiana-w-berescie
BEREST - Orthodox Church of SS. Cosmas and Damian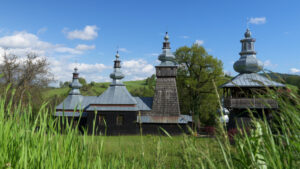 COFUNDED BY THE MINISTER OF CULTURE AND NATIONAL HERITAGE
ORIGINATING FROM CULTURE PROMOTION FUND