The village, originally called Rozembark, in 1291 as the result of exchange became the property of the Bishop of Cracow. The parish was founded probably in the second half of the 14th century. The church was built in 1756-1764 on the site of an earlier temple (the remains of foundations were discovered during the renovation works at the end of the 20th century). It was consecrated in 1850 by the Bishop of Przemyśl. The late Baroque interior was highlighted with imitated wood columns that hold the flattened arcades and the curved rood screen. The polychrome with floral and geometric motifs from 1787 by J. Kozicki was discovered by conservators in the years 1970–75. Three Rococo altars are from the 18th century. The main altar houses rotating niches with statues of St. Andrew, Mother of God with the Child, Christ of Sorrows and the Risen Christ.
As the result of theft in early 1992 the figurines of angels and a cross with the image of the Crucified were stolen from the altar of Our Lady of Częstochowa, the Crucifixion group disappeared from the sacristy, and the Cross from the treasury. It was most likely well planned as the thieves immediately took the figurines abroad. The sculptures have never been found again.
On August the 4th, 1992, the bell tower, historic organs and the church roof burned down hit by a thunder. After the fire, the roof was temporarily covered with sheet metal. The characteristic tower, with a number of drip caps located one above the other, was rebuilt in 2010-2011. Not before 2013 a new roof was covered with shingles and the barrel vaults were made in the main nave and side aisles. In the years 2016-2018 the walls got boarded with new shingles.
Sources:
www.drewniana.malopolska.pl/?page=obiekty&id=170&word=Ro%BFnowice
parafiaroznowice.pl/historia-parafii/
roznowice.pl/historia-roznowic/
Rożnowice - the Church of St. Andrew the Apostle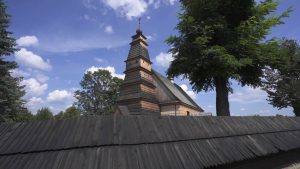 COFUNDED BY THE MINISTER OF CULTURE AND NATIONAL HERITAGE
ORIGINATING FROM CULTURE PROMOTION FUND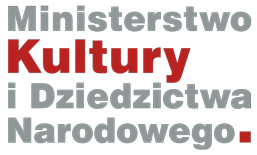 Monday - Friday
10:00 – 17:00
Add a report for a 3D walk