The first written reference to the parish in Odporyszów, found in Jan Długosz's "Liber beneficiorum", comes from the post-1470 period and refers to the St. Margaret's church that stood there until the early eighteenth century. During the 'Swedish deluge', when the army of Charles X Gustav had burned a nearby town, Żabno, a handful of gentlefolk with knights and commoners hid in the trenches in the forest close to the church, attacked the Swedish army, dispersing and drowning them in the nearby bogs. Legend has it that the defenders of Odporyszów received assistance from the Mother of God who provided them with clean water from seven small springs. The crystal clear water can still be found in the so-called "well". As a result of the victory over the infidels, the Mother of God's painting became an object of worship. The Marian veneration began to spread and attract increasing numbers of pilgrims who left numerous votive offerings and wrote notes in chronicles. This is why an idea of a new, one-nave temple in the baroque style was conceived. The church was consecrated on 16th September 1714.
Currently, the following objects can be found in the local church: the main altar with a painting of the Mother of God with the Child, with St. Adalbert and St. Stanislaus, side altars with paintings of St. Catherine, Man of Sorrows and St. Joseph, a marble font, a rococo pulpit, an 11-stop organ, stations of the Way of the Cross, stained-glass windows and a baroque crucifix. Directly opposite the main entrance to the temple, there is a freestanding belfry covered with a dome with a lantern. The bell hanging in it was cast in 1925 in the town of Udine in northern Italy.
In years 1866-1869, Jan Wnęk, a local sculptor, carpenter and designer, performed a number of flights from the church belfry in front of thousands of pilgrims in a self-constructed flying machine. So far those pioneering exploits, due to the lack of documentation, have not been acknowledged in the official history of aviation.
Sources:
sanktuariumodporyszow.pl/index.php/o-sanktuarium/
Odporyszów - Shrine of Our Lady of Victory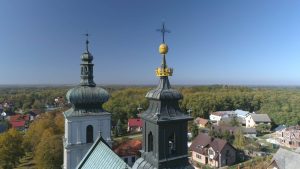 COFUNDED BY THE MINISTER OF CULTURE AND NATIONAL HERITAGE
ORIGINATING FROM CULTURE PROMOTION FUND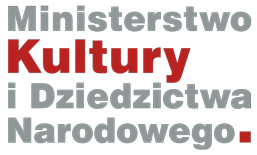 Monday - Friday
10:00 – 17:00
Add a report for a 3D walk