The charming church of St. Stanislaus in Barcice constitutes an example of sacral Baroque wooden architecture in Mazovia. It was built in the second half of the 18th century, but the Christian cult in this part of the region has a much longer history. The village of Barcice appears in historical sources as early as 1185. This is when the Voivode of Mazovia gave it to the Norbertines from Płock. In 1379, a parish was created here and a sacred place of worship was also built, however the historians are not certain whether it was the second or the third.
The church, which is currently standing in this place, was built in 1758. It was founded by Mateusz Kamiński (or Kamieński, depending on the source), back then the priest in charge of the female order. The current shape of the building is the outcome of the refurbishment from the second half of the 19th century. Most likely, back then, 3 towers were added and decorative weather-boarding of the church was executed.
After World War II, the parish was transferred to nearby Somianka and the wooden church in Barcice became the filial church. Regardless of its administrative function, it is a beautiful monument that the conservators are looking after.
This oriented, wooden church is entirely made of pine wood. The structure is reinforced with vertical beams (lisice), covered with weather-boarding including battens. Every roof of the building is covered with shingles. It is worth noticing the above-mentioned three quadrilateral turrets adorning the façade.
Next to the church, it worth paying attention to the beautiful wooden bell tower dating back from 1768. It has two floors separated by eaves and its structure was designed on the square plan. The tin roof is topped with an iron cross.
You have to make an appointment with the parish priest to be able to have a look inside, but we encourage you to do so. The walls inside are covered with polychromies composed of vegetal patterns and Baroque interior decorations. The main altar was made at the end of the 18th century and it holds the painting of Our Lady of Immaculate Conception. The side altars are much older, they date from around 1640. Confessionals and benches also date from the end of the 18th century and the beautiful pipe organ dates back to 1858.
BARCICE | Church of St. Stanislaus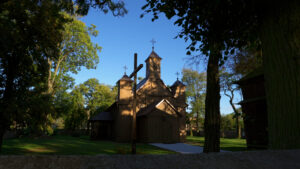 COFUNDED BY THE MINISTER OF CULTURE AND NATIONAL HERITAGE
ORIGINATING FROM CULTURE PROMOTION FUND