All Saints' Church in Ptaszkowa was established in 1555. It is a wooden building with a post-frame tower. The church consists of a presbytery closed on three sides with a sacristy from the north, two side chapels, a nave and a tower. The tower with built-in arcades, with a narrower bell floor, topped with an onion-shaped dome with a lantern. Above the sanctuary and the nave there is a single-ridge roof covered with metal sheets. The walls have been vertically boarded with slats. On the outer wall of the church, in the niche of the presbytery, for many years there was a late-Gothic bas-relief by Veit Stoss (in Polish Wit Stwosz) who was a leading German sculptor, mostly in wood, whose career covered the transition between the late Gothic and the Northern Renaissance. His bas-relief from the end of the 15th century depicts the Jesus' prayer in the Garden of the Gethsemane (so-called "Ogrojec"). Being too valuable it was eventually transferred to a deposit and currently is a part of the exhibition of the District Museum in Nowy Sącz.
Inside the temple, the ceilings are flat, and in the transept (i.e. the nave) there are apparent domed vaults supported by columns. The ornamental and figural polychrome from 1929-32 and from 1940 was modelled on the sixteenth-century pieces by Józef Dutkiewicz.
The image of the Holy Mother of Joy, famous for grace, has since 1734 been placed in the most important place in the temple, i.e. in the center of the altar. This is the biggest treasure of Ptaszkowa. It can be obscured by a retractable painting of All Saints. The two early Baroque side altars from around the mid-seventeenth century underwent considerable transformations. In the right side altar hidden in the golden recess there is the figure of the Virgin Mary with the Child from around 1420, also known as the Madonna with sunflower. The left altar contains a bas-carved, golden painting of the Heart of Jesus from the 20th century, and in the top – a Veraicon painting from the 18th century. Other equipment of the temple are: a stone Renaissance baptismal font from 1506, a Rococo pulpit and six pews from 1777.
Sources:
www.ptaszkowa.pl/kosciol-pod-wezwaniem-wszystkich-swietych/
www.drewniana.malopolska.pl/?page=obiekty&id=158https://pl.wikipedia.org/wiki/Ko%C5%9Bci%C3%B3%C5%82_Wszystkich_%C5%9Awi%C4%99tych_w_Ptaszkowej
PTASZKOWA - All Saints' Church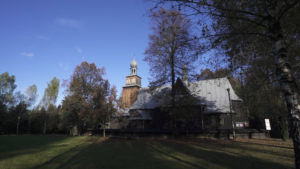 COFUNDED BY THE MINISTER OF CULTURE AND NATIONAL HERITAGE
ORIGINATING FROM CULTURE PROMOTION FUND