The St. James's wooden church located in the village of Probołowice was erected in 1759 by the parish priest of that time, Reverend Jacek Kowalski. The history of this parish, however, dates as far back as to the Middle Ages. Its existence is confirmed by the notes of the Polish historian and chronicler, Jan Długosz, who confirms that the first small wooden church was built here as early as in the thirteenth century. At the time the village was called "Probolowycze". The first historically known parish priest of this church was Wiesław of Probołowice.
In 1500, a second wooden church was built in the village. At the turn of the sixteenth and seventeenth centuries, both temples were taken by the Protestants and converted into Protestant chapels. The present-day church was erected in 1759 thanks to the donations of Magdalena Zagórska and Jerzy Zagórski.
The church is made of wooden logs. The nave was erected on a square-resembling plan, whereas the chancel is narrower, lower with polygonal termination. Inside, there are three altars in rococo style: the main one, in the center of which there is a painting of the Crucified Jesus, and two side ones. In the side altar, there is a mercy-working painting of Probołowice's Mother of God with the Child.
The initial stage of the World War I (from December 1914 to May 1915), when the Austro-Russian front was passing nearby, was a difficult time for both the inhabitants of the district and the church. The war overlapped with a typhus epidemic which took a heavy toll. Propitiatory services, linked to the atrocities of the World War I and the epidemic, contributed to an increased veneration of the Mother of God of Probołowice, as She was the one people would resort to for protection.
The church survived the World War II without any significant losses, most likely due to its location, away from main routes.
Sources:
www.diecezja.kielce.pl/parafie/probolowice-sw-jakuba-ap
www.niedziela.pl/artykul/117352/nd/%E2%80%9EKosciolek-ocalila-chwale-swa
www.niedziela.pl/artykul/53147/nd/Wsrod-urodzajnych-pol
PROBOŁOWICE – Kościół św. Jakuba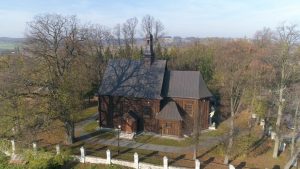 FUNDED BY THE MINISTER OF CULTURE AND NATIONAL HERITAGE
ORIGINATING FROM CULTURE PROMOTION FUND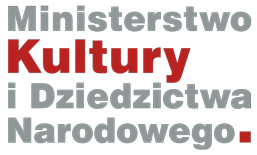 Monday - Friday
10:00 – 17:00
Add a report for a 3D walk