Gosprzydowa – the Church of St. Ursula and her companions
The first mention of the parish appears in "Monumenta Poloniae Vaticana" (Acta Camerae Apostolicae) in 1325.
The present church was built in 1697 thanks to the Wielogłowski family foundation.
The wooden church is of timber construction, with walls covered partly with shingles, partly shuttered, with one nave. On the main door there are decorative Gothic blacksmith fittings from the 16th century. The interior is covered with figural polychrome from 1889 made by Wiktor Puszczyński, while the polychrome in the chapel comes from 1965 by Piotr Grabowski. The interior is baroque, the main altar from around 1700 with two paintings of the Virgin and Child from the mid-seventeenth century.
In Gosprzydowa, the cult of the Mother of God has been documented for over three centuries. The local people worship Gosprzydowa Mother of God under the eloquent, though forgotten today title of "the one giving relief and comfort to the dying". Baroque side altars come from the 17th and 18th centuries. The left altar was initially dedicated to St. Antoni, rebuilt in the 20th century – dedicated to the Heart of Jesus. The right altar is to resemble a vine bush with a sculpture of Christ crucified. There is the Starykoń coat of arms and an ornament of inverted lilies on the stone, Gothic baptismal font from the 15th century.
In 1954 a chapel was added to the presbytery. There is a 20th-century altar of the Holy Sepulcher.
In the crown of the altar there is a picture of St. Ursula, covering her companions with her coat. According to legend, this Roman-British princess died, along with her 10 maids, killed by the Huns in Cologne. Apparently barbarians being influenced by the vision of holy virgins ascending heaven, departed from the city walls.
Sources:
gosprzydowa-wiz.diecezja.tarnow.pl/#parafia
www.drewniana.malopolska.pl/?page=obiekty&id=49
www.gosprzydowa.pl/
Gosprzydowa - the Church of St. Ursula and her companions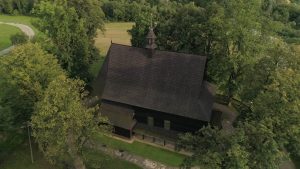 COFUNDED BY THE MINISTER OF CULTURE AND NATIONAL HERITAGE
ORIGINATING FROM CULTURE PROMOTION FUND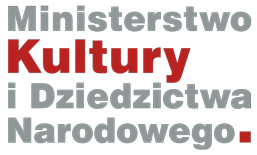 Monday - Friday
10:00 – 17:00
Add a report for a 3D walk