The wooden Church of St. Philip and Jacob is located on the border of the villages of Sękowa and Siary, in a small bend of the Sękówka river. In 2003, it was inscribed on the UNESCO World Heritage List.
The temple is built of larch wood and consists of five parts: chancel, nave, sacristy, tower and the so called in Polish "Saturdays", i.e. low arcades surrounding the church, supported on pillars and covered with a one-pitched roof. For centuries, they gave shelter to people who came from distant villages to Sunday services, often already on Saturday evenings.
The exact date of construction of the church is unknown. The two dates 1522 and 1540 appear in the scientific literature. The first is engraved on a white, stone baptismal font in the church. The second date i.e. 1540 was put on the bell that used to be on the tower. Since these dates are not confirmed, a general date was introduced specifying the time of construction of the church in the first quarter of the 16th century. Initially, in the 16th century the church consisted of a nave and a chancel, then a sacristy was added. In the 18th century a tower and low arcades giving shelter to pilgrims were built. The characteristic soaring roof of the church is covered with shingles, which enhances the picturesque shape of the structure.
Inside the church there is a late Renaissance main altar from the beginning of 17th century (reconstructed in 1948–49) with a painting of St. Nicholas, and on his sides St. Benedict and St. Anthony and the sculpture of the Savior of the World.
Until 1886, the church of St. Philip and Jacob in Sękowa was a parish church.
During the First World War, the church of St. Philip and Jacob was seriously damaged, then thoroughly renovated in 1983. It is now a well recognized example of wooden architecture not only in Poland, but also in Europe and in the world.
www.drewniana.malopolska.pl/?page=obiekty&id=173
www.diecezja.rzeszow.pl/2015/04/sekowa/
SĘKOWA - St. Philip and St. Jacob's Church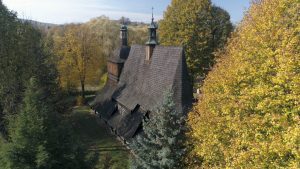 Monday - Friday
10:00 – 17:00
Add a report for a 3D walk