The twelfth-century church of St. John the Baptist in Zagość is located in the center of the village, in the middle of a rectangle-resembling square, surrounded by a stone wall. It is a valuable example of the Romanesque architecture in Poland. Its origins are linked to the Knights of the Order of St. John of Jerusalem, who were brought into this land by the Duke Henry of Sandomierz while he was returning from a crusade. In about 1166, he established a monastery and funded a hospital in Zagość for them. The temple, partly preserved to present day, was probably built by the Knights of the Order in the 60s and 70s of the twelfth century. After 1317 the monastery declined, and after 1321 the monks handed the commandery over to the diocese of Włocławek.
The first recorded reference to the parish dates back to 1335. In the fourteenth century, the church was extended and rebuilt in the Gothic style: the nave and the chancel were lengthened, the ceiling was raised and the windows were made higher. The temple owes its present-day appearance to king Casimir the Great who was the founder of the investment. In the fifteenth century a sacristy was added. Side walls of the chancel and the nave, with their rich, stone decor, constitute the elements preserved from the Romanesque church. In 1667 the temple was re-consecrated.
In the early twentieth century the church was enlarged: among others, a chapel and a porch were added, and a sacristy from the south side, whereas the nave was extended towards the west. The Gothic chancel, with its narrow lancet windows and a sculpted eagle of the Piast dynasty on the vault keystone, attracts special attention. The church is oriented, which means the chancel faces the east. In the 60s of the previous century, fragments of the original Romanesque church of the twelfth century were discovered by the north side of the chancel: "blind" arcade with low reliefs depicting mermaids, among others.
The church in Zagość is now the only mark of the first foundation of the Order of St. John in the territory of Poland.
SOURCES:
www.diecezja.kielce.pl/parafie/zagosc-sw-jana-chrzciciela
zabytek.pl/pl/obiekty/stara-zagosc-kosciol-joannitow-pw-sw-jana-chrzciciela-ob-par
ZAGOŚĆ – Church of St. John the Baptist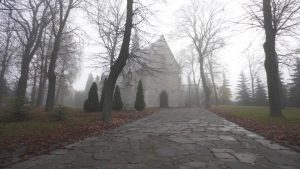 COFUNDED BY THE MINISTER OF CULTURE AND NATIONAL HERITAGE
ORIGINATING FROM CULTURE PROMOTION FUND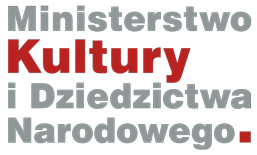 Monday - Friday
10:00 – 17:00
Add a report for a 3D walk