With a population of less than two thousand, Sieniawa is located in the Raba River Valley, where the Raba River has its source. The church of St. Anthony is one of the most precious monuments in the village. At the same time, it is one of the most beautiful churches on the wooden churches route in the Małopolska Region. 
Its history started in the 18th century when the first estate's chapel was built, with a private chaplain, to be used by Andrzej Sendzimir coat of arms Ostoja, the Pantler of Wieluń and his wife Anna born Sierakowska. This noble family was the owner of Sieniawa at the time. The first reconstruction, giving it the shape that we can admire today, took place in 1858. The sacristy was added and two years later the interior of the church was thoroughly renovated and the altars were gilded. Before World War II, the roof received new shingles and new bells were purchased. In 1936, on the axis of the church, a gate in the arcade surrounding the church was added.
The church of St. Anthony in Sieniawa is made of fir wood and it has a log structure. The ridge turret on the hip roof holds a bell from 1947. The previous one was stolen during World War II.
The patron saint of the church, St. Anthony, is, among others, the patron saint of lost things. The faithful seek his intercession when they cannot find something that is precious or important. He is also the patron saint of married couples and children.
The inside of this wooden church has a special climate thanks to the dark colour of the walls. The carved gallery is dominated by a decorative pipe organ from the 18th century and above the main altar we will notice the representation of the Creator painted on the ceiling. 
All the three altars date from the 18th century and represent the Baroque style. It is worth paying attention to the Stations of the Cross executed in the 18th century as well and the Baroque multilateral pulpit.
The surroundings of the church are also delightful. The building is surrounded by more than 200-year-old linden trees that constitute an ideal background for the delicate wooden architecture. The trees have the status of natural monuments.
SIENIAWA | Church of St. Anthony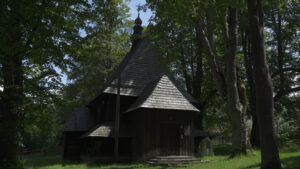 COFUNDED BY THE MINISTER OF CULTURE AND NATIONAL HERITAGE
ORIGINATING FROM CULTURE PROMOTION FUND