At the very heart of the Low Beskids, barely 10 kilometres away from Slovakia, we can find the charming village of Gładyszów. According to historical sources, the first settlement was founded here in the 15th century, as shown by the documents that have been preserved and that indicate the construction of a road from Gorlice, via Gładyszów to Konieczna. This construction was to last from 1778 to 1779. The local community was composed of the Catholics, members of the Orthodox church and the Jews. From the ethnic perspective, the most numerous were the Lemkos, followed by the Poles. In November 1918, a big rally of the Lemkos took place, during which the Russian Council was created. The Council was subordinated to the so-called Lemko-Rusyn People's Republic with authorities in Florynka. After World War II, in 1946, the village was taken over by the Ukrainian Insurgent Army. A year later, all the Lemkos were deported from the village within the Operation Vistula to the Recovered Territories in the west and only 6 mixed families were left. Many of those expelled would not return to the village until 1956.
One of the precious remnants of the Greek Catholic culture is the Orthodox church. It is a must on the Route of Wooden Architecture. The structure of the building differs from other Orthodox churches. It was designed on the Greek-cross plan, a very popular solution on the territory of today's Ukraine. The central part of the church is adorned with a dome and the four arms that diverge from the centre are covered with a tin roof topped with small towers. 
The inside of the church is equally interesting. The visitors must absolutely see numerous embroidered scarves offered by the faithful women. The iconostasis was not finished before the war broke out. However, it is worth paying attention to the main altar with a baldachin and a tabernacle as well as to two Rococo side altars from the second half of the 18th century. The first one is decorated with an icon of the Crucifixion and the second with an icon showing Madonna with the Child. When walking around the church, do not forget to look at the free-standing wooden bell tower and beautiful trees in the alley leading to the church.
GŁADYSZÓW | Orthodox Church of the Ascension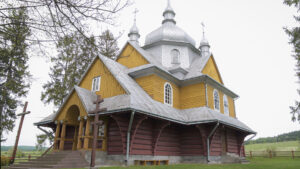 COFUNDED BY THE MINISTER OF CULTURE AND NATIONAL HERITAGE
ORIGINATING FROM CULTURE PROMOTION FUND