The church in Wierchomla Wielka is a former Greek Catholic church of St. Archangel Michael. It was built by the Lemkos in 1821 and rebuilt in 1906. Inside there is an iconostasis from the second half of the 19th century with rich woodcarving decoration in the Baroque style. The presbytery is decorated with a ciborium i.e. canopy supported by columns standing over the altar and a tabernacle. The building is entirely made of wood in a log construction. The nave, presbytery and sacristy annexes are covered by separate multi-pitched roofs, and the porch by a gable roof. The roofs have spherical towers with lanterns, and the outbuildings are topped with small domes. In the background of the altar there is the Crucifixion icon. The nave is decorated with Rococo altars from the 18th and 19th centuries.
The church is currently one of the most interesting buildings associated with the Lemko culture. It was transformed into a parish church of the Catholic rite only in the 1950s – after the military action "Wisła" carried out in this area. Earlier – in the 18th and 19th centuries – Wierchomla was inhabited mainly by Lemkos and they until the forced relocation to the so-called Regained Territories and to the USSR prayed in this wooden church.
Poles began to settle in Wierchomla only during the construction of the Tarnów-Muszyna railway, the Piwniczna-Muszyna route and the beginning of the exploitation of sandstone deposits in these areas. The place of prayer for them was initially a wooden chapel founded by forestry engineer Michał Szczurek.
From 1951, by the decision of Bishop Jan Stepa, a Roman Catholic parish was created in Wierchomla Wielka, and the 19th century church was transformed into a parish church of the Catholic rite (December 12, 1951).
Sources:
www.wierchomla.com.pl/atrakcje/atrakcje-okolicy/szlak-architektury-drewnianej-all-8558?RecordID=8558&
www.drewniana.malopolska.pl/?page=obiekty&id=213&word=wierchomla
old.piwniczna.pl/pl/1161/0/parafia-sw-michala-archaniola-w-wierchomli-wielkiej.html
www.wierchomla.diecezja.tarnow.pl/historia.php
Wierchomla Wielka - Orthodox church. St. Of Archangel Michael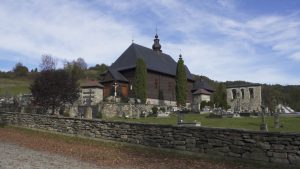 COFUNDED BY THE MINISTER OF CULTURE AND NATIONAL HERITAGE
ORIGINATING FROM CULTURE PROMOTION FUND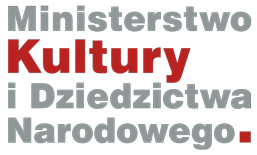 Monday - Friday
10:00 – 17:00
Add a report for a 3D walk