Situated on a hill in the center of the village, the church complex occupies the inside of an oval square surrounded by a stone wall. The name of the village comes from the good quality water found here, in contrast to the surrounding villages, where spring water is often sulphated. The Mary Magdalene's Church was founded by the bishop of Kraków Florian from Mokrsko in 1354. Its current shape comes from the years 1524 – 1525 when it was rebuilt in the late Gothic style.
It is a one-nave temple with a narrower and lower chancel with a a small sacristy from the north. There is a cross-ribbed vaulting over the chancel's and a barrel vaulting over the nave, decorated with the noble coats of arms of Łodzia, Doliwa, Jastrzębiec, Dębno and Ślepowron . The chapel adjoining the nave from the northern side is devoted to the painting of Our Lady from the 16th century. On the western facade of the church there is a round tower with a conical roof. A Gothic-Renaissance portal leads to the interior of the church. You can see the coat of arms of Lodzia engraved there. The neo-Gothic porch was added at the beginning of the 20th century. Inside, near the porch, some fragments of a Gothic inscription from the 16th century have been preserved.
Themain altar's painting depicts the Crucifixion scene. Under the pulpit there is a marble, Renaissance slab of Jan Bobola from 1605 (Sandomierz sub-chambers, uncle of St. Andrew Bobola). Jan Bobola's bust and a Renaissance epitaph are built into the pillar separating the nave from the chapel of the Mother of God.
Next to the church there is a wooden belfry from the 18th century and a statue of St. John of Nepomuk. The church in Dobrowoda is considered to be the most valuable provincial, Gothic temples in northern Lesser Poland (Małopolska).
Sources:
www.diecezja.kielce.pl/parafie/dobrowoda-sw-marii-magdaleny
zabytek.pl/pl/obiekty/dobrowoda-zespol-kosciola-par-pw-sw-marii-magdaleny-i-sw-mar
dawnekieleckie.pl/dobrowoda-kosciol-parafialny-gmina-busko-zdroj-powiat-buski/
Dobrowoda – St. Mary Magdalene Church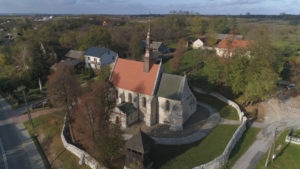 COFUNDED BY THE MINISTER OF CULTURE AND NATIONAL HERITAGE
ORIGINATING FROM CULTURE PROMOTION FUND